Open enrollment for your 2018 Part D Prescription Plan (PDP) begins October 15, 2017. We are always happy to assist you with determining whether or not you should switch your drug coverage. However, we encourage you to also explore the available plans on your own.
Medicare.gov offers an easy to use tool to help you decide which PDP will meet your budget and coverage needs.
NOTE: Before you begin your search, make a list of medications, including dosages, quantities and generic vs brand preferences. 
Step 1
Click on "Find health & drug plans"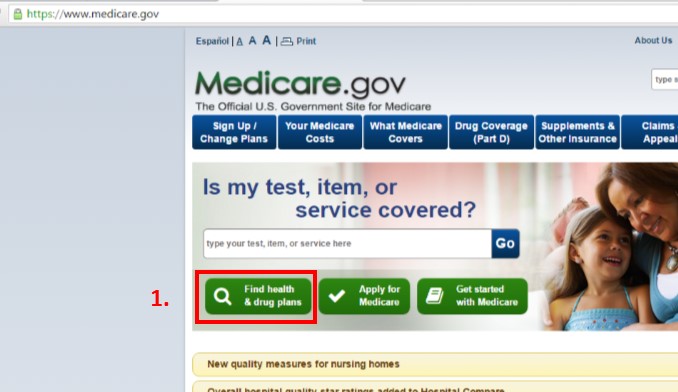 Steps 2 -3
Enter your zip code under "General Search"

You can also enter your information in the "Personalized Search" section, but it is not necessary

Click on "Find Plans"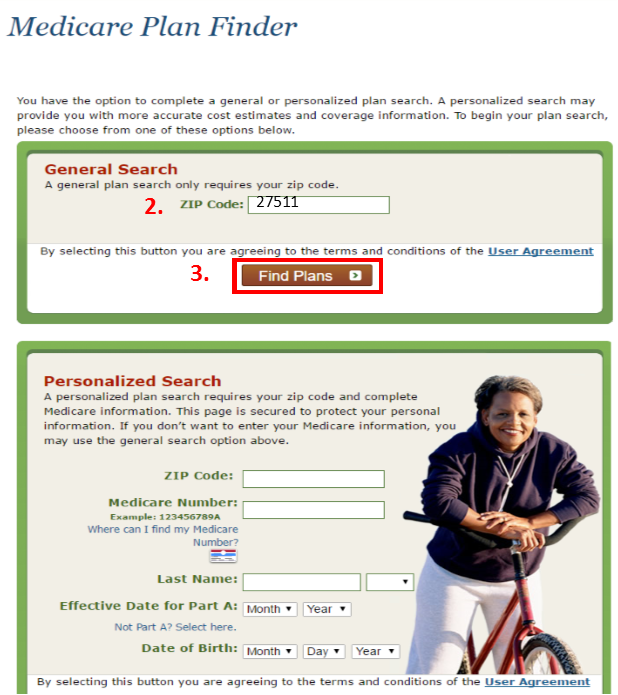 Steps 4 – 6
Select "Original Medicare" under the "How do you get your Medicare coverage"
Select "I don't know" under the "Do you get help from Medicare…"
Click on "Continue to Plan Results"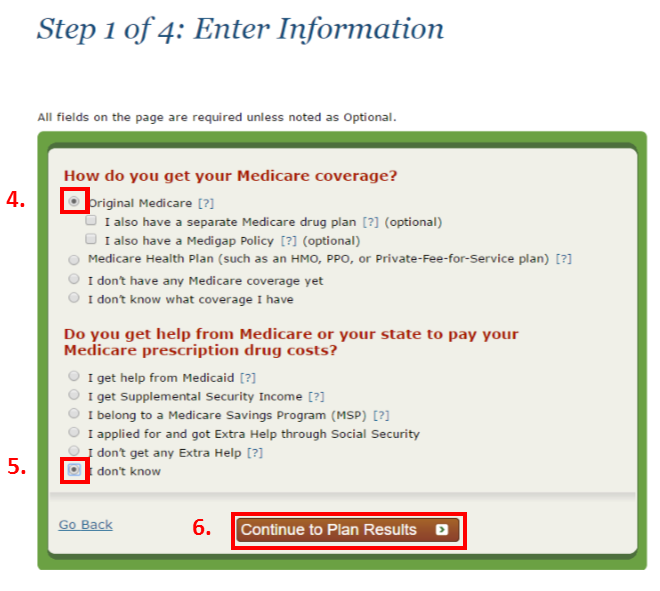 Steps 7-8
Enter the name of your first medication under the "Type the name of your drug" section
Click on "Find my Drug"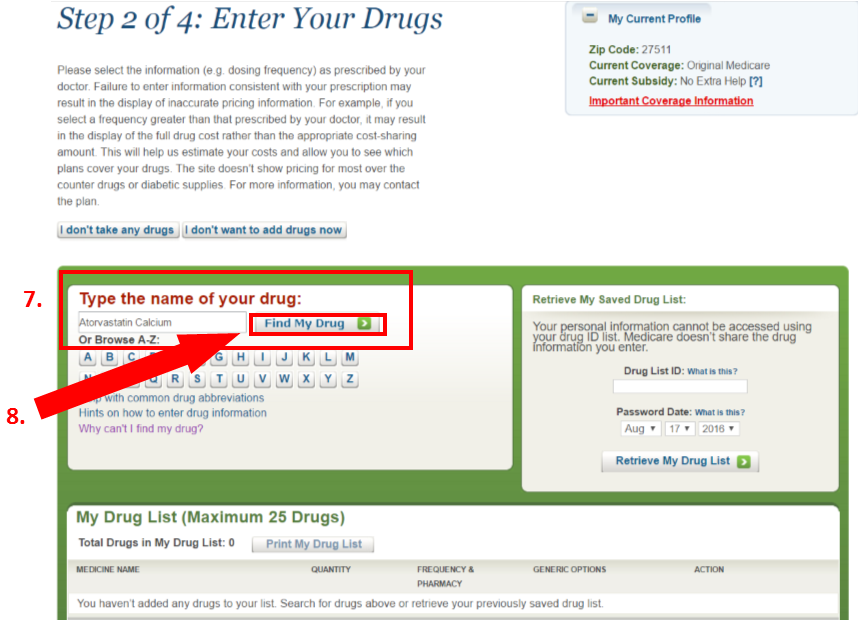 Step 9
After entering your drug, a text box will appear asking you to specify your dosage, quantity, frequency and pharmacy preference.

After making your selection, click on "Add drug and dosage"
NOTE: If the dosage window does not appear you may want to check the spelling of your medication, or select from the "Search Results" list that may appear on the bottom half of your screen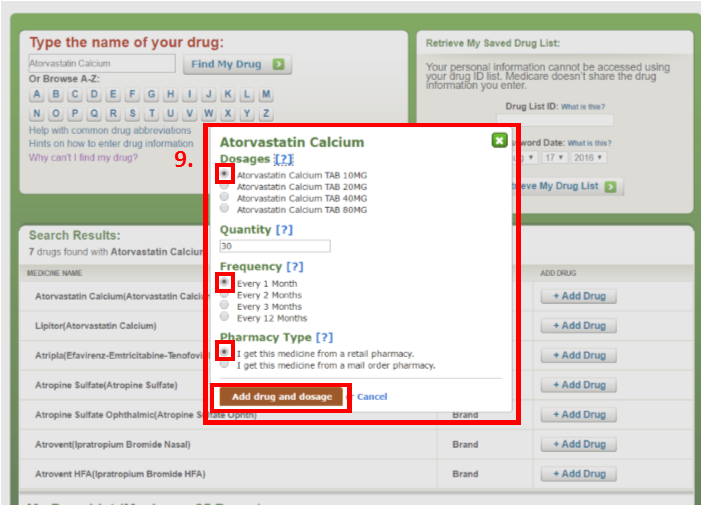 Steps 10 – 13
Your medication will appear in the "My Drug List" section of your screen
Repeat steps 7-9 until you have entered in all of your medications
Make note of your Drug List ID, Password Date and Zip code in the "Retrieve My Saved Drug List" section so you can return to your saved list at any time.

Your ID number will not appear until you have entered at least one medication

Click on "My Drug List is Complete"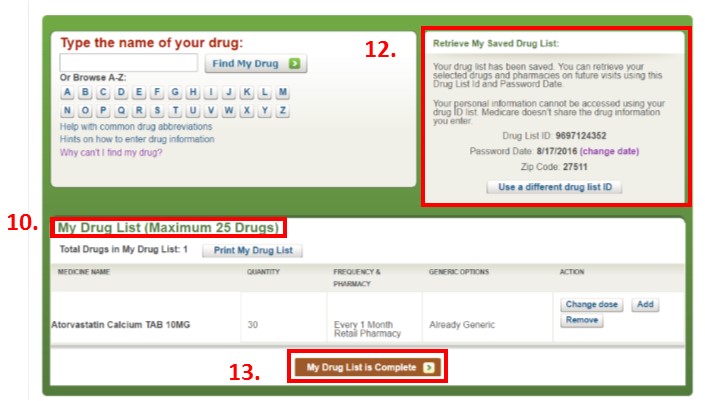 Steps 14 – 15
Select up to two pharmacies by clicking on "Add Pharmacy" under each listing

Note: We recommend choosing your top preference, followed by a chain pharmacy like Walmart or Walgreens, as these stores are most often in network

After choosing your pharmacies, click on "Continue to Plan Results"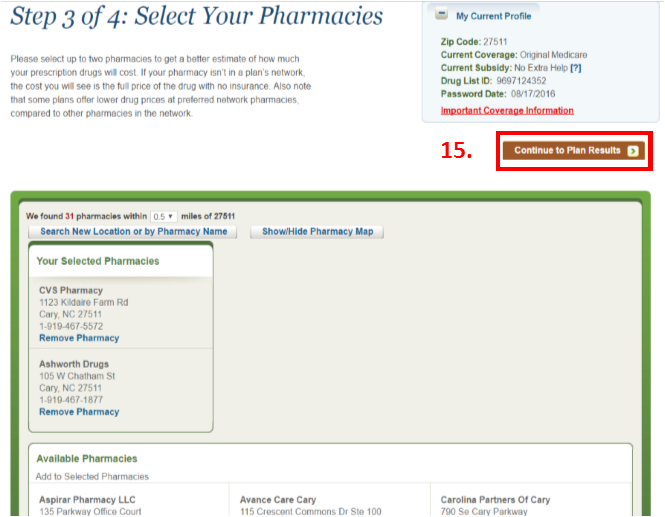 Steps 16 – 17
Select the box next to "Prescription Drug Plans (with Original Medicare)
Click on "Continue to Plan results"

NOTE: We recommend ignoring the "Refine Your Search" section in order to see all plans that are available in your area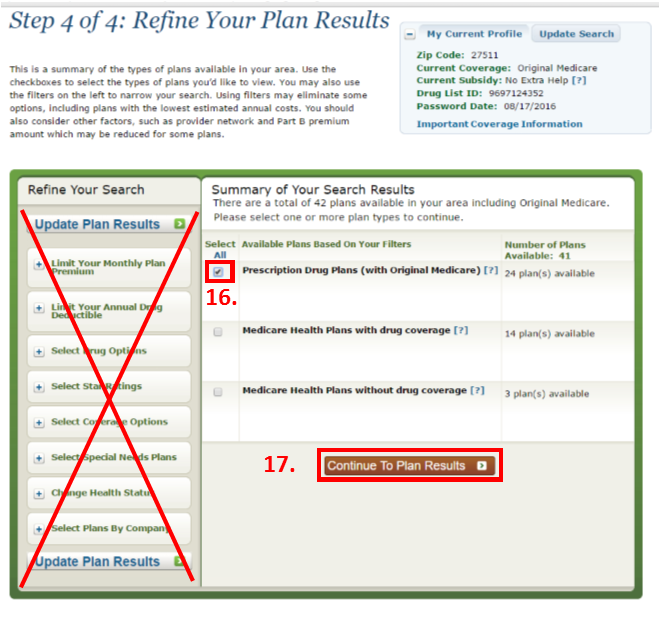 Steps 18 – 20
Look under Prescription Drug Plans for a list of recommended PDPs
Your plan results will be organized in order of lowest estimated annual cost
To view details for a specific plan click on the name of the plan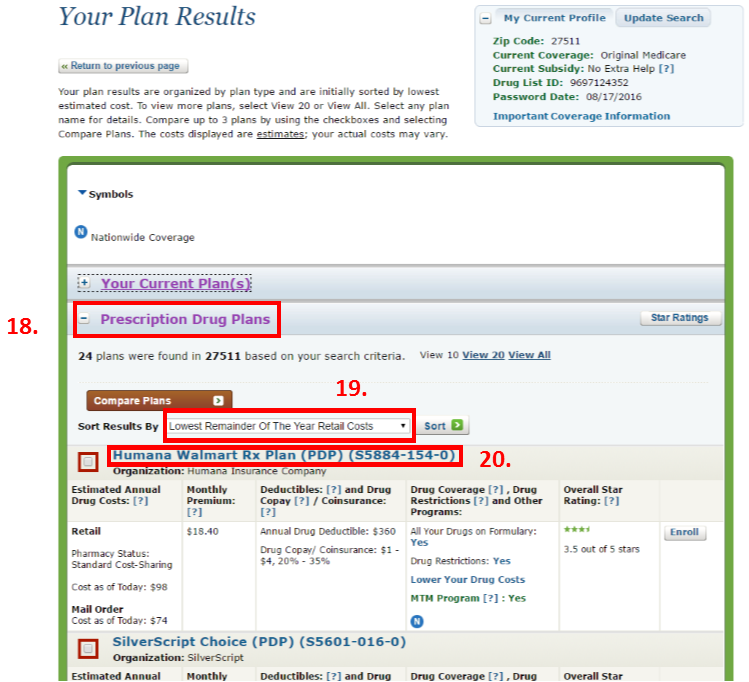 Steps 21 – 25
The detailed view that will appear will show you the monthly premiums and deductibles if applicable
The "Estimate of what you will pay for Drug Plan Premiums and Drug costs" is an estimate of all your out of pocket costs, but prices may vary.
The "What You Pay" section allows you to compare costs at your pharmacy preferences, as well as mail order programs. Be sure to note the variations in drug costs due to your deductible phase, initial coverage phase (copays after the deductible), coverage gap costs, and catastrophic coverage costs.
Be aware of any medication restrictions including, quantity limits, prior authorization, and step therapy
After deciding which plan you want, you may enroll by calling the "non Members" number at the top of the page, or by clicking on the "Enroll" button